Richard Botelho is an author, thinker, philosopher, and social critic. His previous books include gold award winner The New Individualism: Personal Change to Transform Society, Leah's Way, and Reason for Existence. His works are used in hundreds of colleges and universities and have been featured in The Midwest Quarterly, Library Journal, The Review of Metaphysics, and The Journal of Personal Transformation.
He is a professional affiliate of a number of forward thinking organizations, including The Galileo Commission, The Independent Institute, The Aspen Institute, World Futures Studies Federation, and Open Sciences. His work appears in academic journals, consumer magazines, primary media, and numerous online websites and publications. His encyclopedia article can be read
here.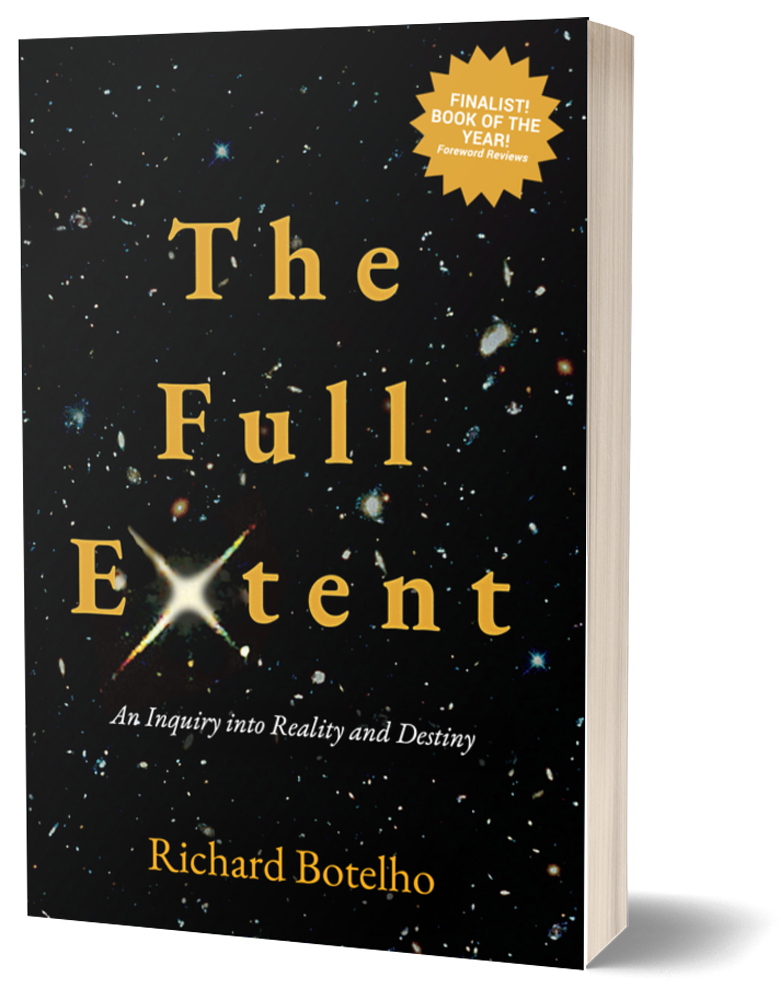 "This is heady material, invitingly written…….Botelho generous in presenting the implications, reconciling physics, metaphysics, and varied religious possibilities as his arguments build, naturally, to consider the mind of a Creator."
Booklife
"The book is a brilliant and important contribution in elaborating the implications of quantum physics for our understanding of the nature of consciousness and reality."
Paradigm Explorer
"This is an extremely informative read.........the author's attempt to define reality and soul is fascinating."
The US Review of Books
"The Full Extent by Richard Botelho is academically impeccable in its presentation, organization, summarization, and attributions to historical predecessors….a groundbreaking and profoundly intelligent work."
Readers' Favorite
"Philosophy and science students ..... will find The Full Extent a logically arranged, astute discussion that opens the door and paves the way for more inspections."
The Midwest Book Review
"Botelho is intentionally arguing for a new integrative megatheory, and a larger paradigm shift that will open up new scientific and exploratory potential, one that surmounts the stagnation of the sciences."
Acta Theologica
"A philosophical exploration of existence, science, and humanity's progression of awareness, The Full Extent by Richard Botelho is a heady blend of cutting-edge theory and timeless musing.........this epistemological thesis is a mind-expanding thrill."
The Self-Publishing Review
"The Full Extent explores quantum nature, its metaphysical implications, and the future of humanity……..exactly the type of thinking required."

Human Futures

"This is a must read for those searching for the truth."
More to Life
"The Full Extent is an interesting and challenging read."

BTN Book Reviews
THE TRUTH OF EXISTENCE REVEALED
In the early 20th century, discoveries in quantum mechanics proved Consciousness is the ground of all being. This finding contradicted scientific materialism, which posited matter as foundational; instead, matter results from Mind. Moreover, Consciousness was antecedently linked to a First Mind, the universe a mental and spiritual construction of a Divine Being. The Full Extent expands on these quantum truths and considers their spiritual implications, positioning the human future.
NEWSLETTER SIGNUP
Signup to receive news of upcoming projects and books.